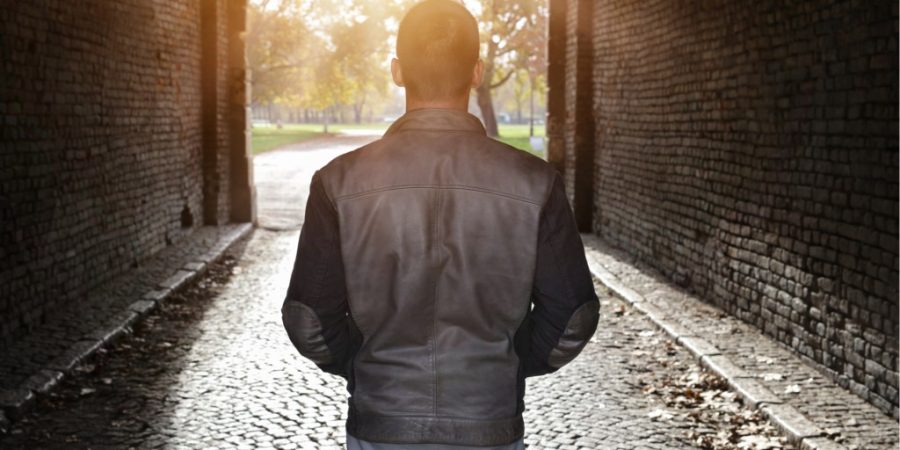 What does life after alcoholism look like? Quitting alcohol may be one of the most difficult challenges of your life. However, the more you know, the better you can deal with detox and daily living afterward. Here, you will find answers to many of the questions you may have about getting back to the life you want after alcohol treatment.
Need help quitting alcohol through a safe and effective treatment program? Contact us today at The Woods at Parkside to start now!
Step One in Quitting Alcohol: Detox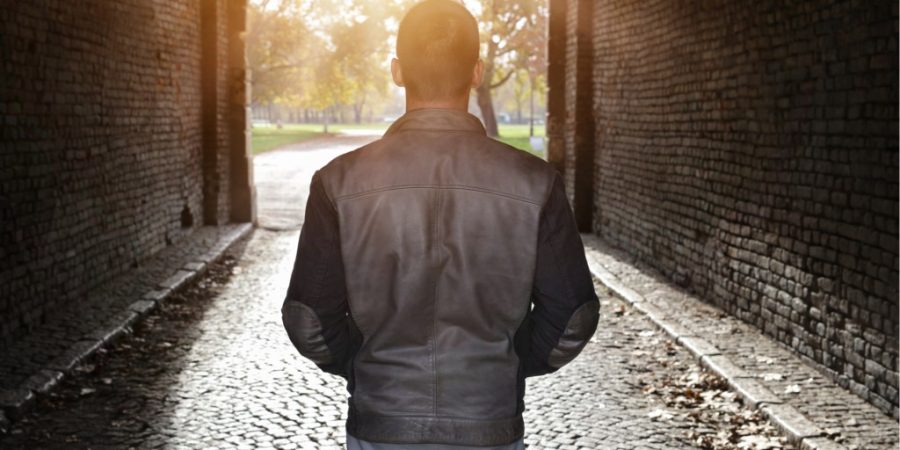 Life with alcoholism can be distressing and destructive to you and all your relationships. However, before you can reshape your life, you must go through the process of detoxing your body and brain. Here are a few FAQs about how to go about detox and what you might experience during this phase of quitting alcohol.
Do you need to be in a treatment center to detox from alcohol?
A treatment center is the safest and most effective way to detox from alcohol. Many people do go through detox on their own, at home. Unfortunately, this is a very difficult and sometimes even dangerous option.
You should never try to detox alone under any circumstances. At the very least, you need someone standing by to watch over you and daily doctor visits. The safer way to quit alcohol is to go to a recovery center, such as The Woods at Parkside in Ohio, where you can receive 24-hour nursing care and various kinds of assistance while you go through detox.
How long does detox take?
On average, the alcohol detox process takes 3-10 days. However, how long it takes to detox from alcohol depends on many factors, including your age, your weight, your overall physical condition, and how much and how long you have been drinking. For long-term heavy drinkers, withdrawal symptoms may continue for up to a month or more.
When do you start to feel the effects of alcohol withdrawal?
Symptoms can begin as early as six hours after you had your last drink. As soon as the alcohol levels begin to drop below what you are accustomed to, you may begin to feel withdrawal symptoms.
What are the phases of alcohol detox?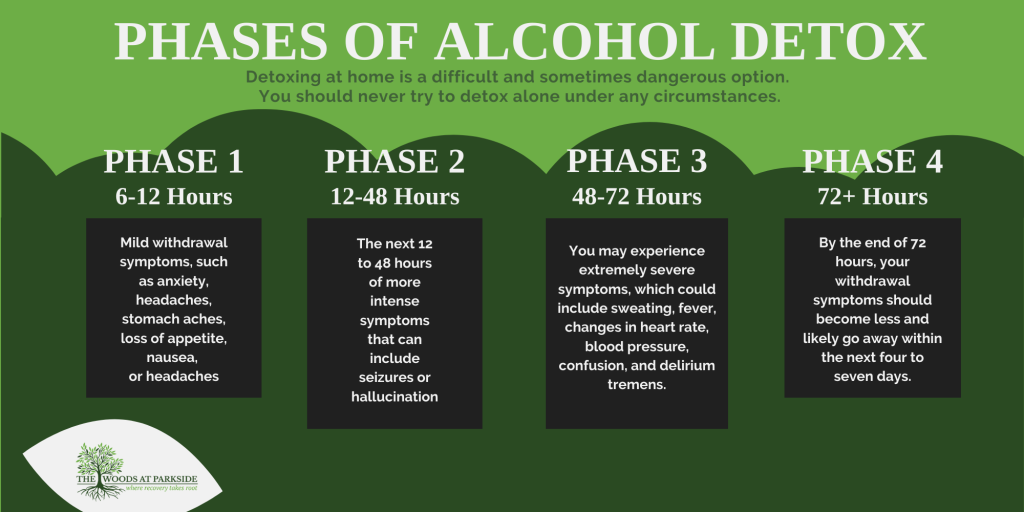 There are four stages of alcohol detox.
Stage one – six to 12 hours of mild withdrawal symptoms, such as anxiety, headaches, stomach aches, loss of appetite, nausea, or headaches
Stage two – The next 12 to 48 hours of more intense symptoms that can include seizures or hallucinations
Stage three – From 48 to 72 hours, you may experience extremely severe symptoms, which could include sweating, fever, changes in heart rate and blood pressure, confusion, and delirium tremens.
Stage four – By the end of 72 hours, your withdrawal symptoms should become less and likely go away within the next four to seven days.
Can alcohol withdrawals cause chest pain or a heart attack?
Chest pains commonly occur during alcohol detoxification. Quitting alcohol, especially after years of alcohol use, can be an extremely challenging process for your body. Coronary artery spasms can cause severe chest pain or make your chest feel very tight, which could lead to a heart attack. This is one of the reasons it is important to be where you can get quick medical help if needed.
You may feel many heart-related symptoms during alcohol withdrawal. These can include fast heartbeat (tachycardia), irregular heart rhythms (arrhythmias), and for some people, heart attack. To minimize the risks associated with these symptoms, it is best to detox where you have immediate access to medical professionals with experience in treating alcohol withdrawal.
Can quitting alcohol cause brain fog?
Yes, brain fog is a common symptom of alcohol withdrawal and may continue for a while afterward. Brain fog can make you feel far from your best self. You may have trouble concentrating, remembering names, or focusing. Your thoughts may race or lag, and you may feel mentally fatigued. People going through alcohol detox often fear that this fogginess will never go away. However, after a few days of withdrawal, the brain fog should get better. In most cases, when you have completed the detox process, thinking returns to the way it was before alcoholism.
After Detox
After the initial detox phase of quitting alcohol, you can benefit from further help and support. During this later period, you will need to deal with certain lingering symptoms. It will help you to clean the alcohol out of your body completely and take steps to undo any damage the alcohol did. In addition, having help creating a life that doesn't include alcohol can give you the tools you need to leave alcohol behind permanently. Here are more answers about what happens after detox.
Will I have bloating after quitting alcohol?
If the alcohol use has caused gastritis, then you may have bloating and abdominal discomfort for a while. Long years of alcohol use can cause a condition called alcohol-induced gastritis. Gastritis not only causes bloating but can also give you abdominal cramping, pain, and distress. This condition happens over time, so naturally, it will take time to get over it. Talking to a doctor early on will help you heal faster.
How long does itching last after quitting drinking?
Itching usually begins to occur during phase three of the withdrawal process and may continue for a week or longer. Skin itching, or pruritis, can get better faster if you eat a nutrient-rich diet, take supplements, and get enough rest. In some cases, skin damage can be reversed if you improve your overall health. In other cases, you might need prescription treatments for the itching.
How do you clean alcohol out of your body?
Clean it out by staying hydrated, resting, and eating healthy foods. Staying hydrated is the most helpful thing you can do to clean the alcohol out of your system. Drink water, green tea, or other healthy beverages so that you get the right amount of fluid for your own body. Between the foods you eat and the beverages you drink, you should take in between 11.5 and 15.5 cups of fluid, depending on your body size and physical makeup.
In addition to fluids, be sure you are eating a healthy alcohol recovery diet, with plenty of fruits and vegetables, whole grains, and low-fat proteins. Cayenne pepper can help reduce alcohol withdrawal symptoms. Foods with vitamin B will help replenish this nutrient that is often depleted by alcoholism. Foods high in vitamin B include walnuts, salmon, and leafy greens. Foods with Omega-3 fats, such as salmon and flaxseed, help reduce the inflammation caused by years of drinking alcohol.
You can also talk to a medical professional at your treatment center to get an alcohol recovery diet customized to your specific needs.
Life After Quitting Alcohol
Many former drinkers find life after quitting alcohol much more rewarding and often more pleasant. However, virtually all recovered alcoholics continue to have challenges due to their years of alcohol consumption. Here are some things you need to know about what life will be like after recovery.
Can recovered alcoholics drink again?
No, not if they have an alcohol addiction. If you have an alcohol addiction, you cannot control how much you drink. You may imagine that you can drink a little bit occasionally, but people with an alcohol use disorder have a brain disorder that changes the way their bodies and minds react to alcohol. Trying to moderate your drinking is almost certain to fail if you are an alcoholic. Therefore, it is best to quit drinking altogether to avoid the risk of relapse. And, chances are, if you are asking if alcoholics can ever drink again, you likely see the signs that you have an alcohol addiction.
How do alcoholics maintain sobriety?
Alcoholics who maintain their sobriety typically do so because they have learned the keys to success in this endeavor and make better choices. Maintaining your sobriety is the final challenge of quitting alcohol. In order to succeed, you need to be able to recognize your triggers. You need to build a new life away from environments that feed your addiction. Learning practical life skills, like budgeting, cooking healthy meals, and managing time, will also keep you on the right track to sobriety.
Planning a structured routine and sticking to it will help you stay focused on taking positive steps rather than falling back into alcoholism out of boredom or being overwhelmed. Finally, with the right support from your doctor, therapist, and support group, you don't have to face this process alone.
What about brain recovery after quitting alcohol?
Some brain functions can return to normal after recovery, while others may take more time and effort to come back to their usual levels. The good news is that your short-term and long-term memory and your verbal IQ and fluency should be the same as if you never drank after you complete recovery. You should see improvements in your brain's functions, and the structure of your brain may change in healthy ways. The volume in certain areas of your brain may also increase, which may improve your ability to make better decisions.
Unfortunately, you may not have that kind of improvement in some brain functions, such as visual and spatial skills, multi-tasking, semantic memory, focusing and paying attention, impulse-control, recognizing others' emotions, or planning. If this is the case, sticking with your treatment plan and recommended therapies may be essential to living a satisfying life after quitting alcohol.
Getting Help with Quitting Alcohol
The Woods at Parkside offers residential treatment for alcohol detox and recovery. Our certified treatment center, located near Columbus, Ohio, is set on a beautiful eleven-acre expanse and accommodates 50 people seeking treatment. We focus on research-based treatments for mental health and addiction issues. In addition to our 45-day residential programs, we also offer partial program day programs and intensive outpatient services.
Are you thinking of quitting alcohol but fear what comes next? Get the help you need by calling us at The Woods at Parkside!
The post Life After Alcohol: What You Need to Know About Quitting Alcohol appeared first on The Woods At Parkside.
Source
Original Author: Beacon User