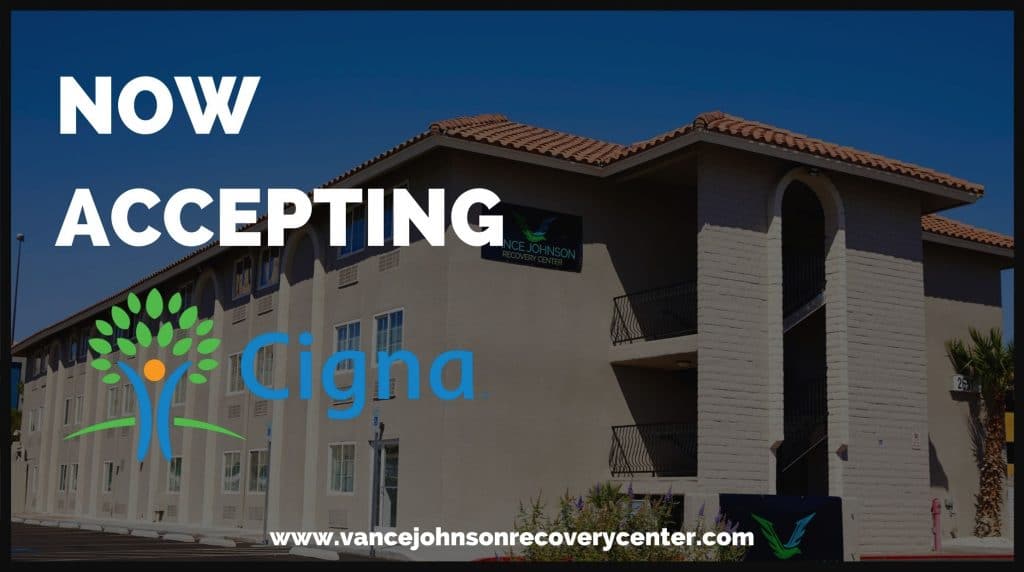 The Vance Johnson Recovery Center (VJRC) is a proud Cigna behavioral health provider for inpatient drug and alcohol rehab in Las Vegas, Nevada.
Cigna Insurance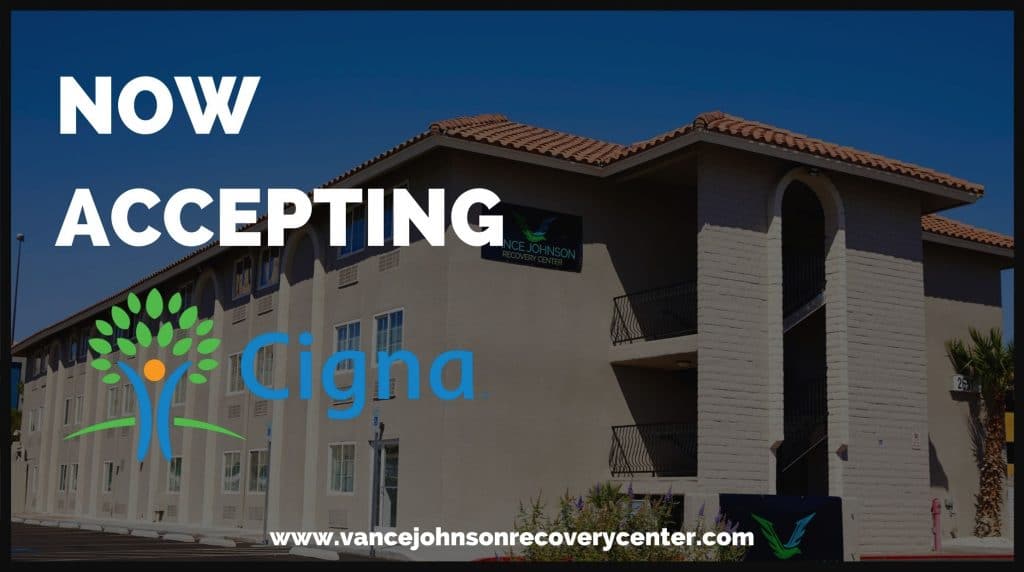 Cigna Insurance is a large, well-established health insurance company that offers a variety of insurance plans to businesses, families, and individuals worldwide. Cigna has a wide network of providers and insurance coverage options that include medical, dental, and supplemental plans.
Cigna Behavioral Health & Mental Health Coverage
Cigna Insurance offers coverage for mental health and behavioral issues. Because addiction falls under the mental health and behavioral umbrella, drug and alcohol addiction treatment is included under Cigna plans.
The mental health and addiction services covered by Cigna will vary by policy. Examples of substance abuse treatment services covered include:
Substance Abuse Assessments
Outpatient Rehab
Partial Hospitalization Programs (PHP)
Addiction-Related Therapy
Addiction-Related Medication
Fortunately, once a substance abuse disorder is diagnosed, Cigna will cover treatment for addiction to a variety of different substances. Examples of specific substance abuse treatment covered by Cigna include:
Cigna Insurance also provides a wealth of addiction resources through their Behavioral Health division. These include webinars, articles, and tools for both those suffering from addiction and their loved ones.
In-Network vs Out-of-Network Cigna Substance Abuse Coverage
The amount of expenses that you will be responsible for when paying for rehab will depend on your specific plan and whether your treatment occurs at an in-network or out-of-network addiction treatment center. Typically, you will be responsible for at least some, if not all, of out-of-network expenses. Additionally, treatment at out-of-network facilities may require approval.
Alternatively, Cigna in-network provider services are typically partially or fully covered under the insurance policy. The dollar amount you're expected to pay will depend on your deductible and the percentage of your co-insurance. For example, Cigna Insurance policies generally range from Bronze to Platinum with Bronze policies covering less of the services provided, and Platinum covering more.
Rest assured that at VJRC, we can help you determine which plan you have and the amount of addiction rehab it covers. If necessary, we can even get you admitted on the same day you call.
How Cigna & VJRC in Las Vegas, NV Can Facilitate Your Recovery
Estimating rehab costs can be challenging. As one of the trusted Cigna approved substance abuse facilities, VJRC can assist you in all insurance-related matters. To find out your exact Cigna Insurance coverage you have a few options.
First, call us at VJRC at 888-828-2623 and our admissions specialists will verify your coverage right there on the phone with you. This simple process only takes a few minutes and we can often get you admitted right away.
If you'd rather, you can ask us addiction treatment insurance coverage questions on our confidential online form.
Alternatively, you can contact Cigna directly and a Cigna customer service representative will answer your questions regarding behavioral and mental health benefits (the Cigna insurance phone number is located on the back of your insurance card).
The Vance Johnson Recovery Center & Cigna Have You Covered
At VJRC, we understand that the rehab cost can be a major barrier to receiving care for substance abuse disorders and we are committed to providing you with options when it comes to paying for rehab. Working with health insurance that covers substance abuse is just one way we can assist in your start to recovery.
About the Vance Johnson Recovery Center
The Vance Johnson Recovery Center is an accredited drug and alcohol rehab facility in Las Vegas, Nevada. Our drug rehabilitation facility provides a continuum of care that addresses physical and mental wellness in a holistic manner. This means that our team will support you in your recovery journey before, during, and after treatment at VJRC.
Let us take the confusion out of the insurance process. Call us today at 888-828-2623 to take your first step towards recovery.
FAQ Regarding Rehab Insurance
The post Cigna Insurance Accepted at Vance Johnson Recovery Center appeared first on Vance Johnson Recovery Center.
Source
Original Author: Vance Johnson Recovery Center