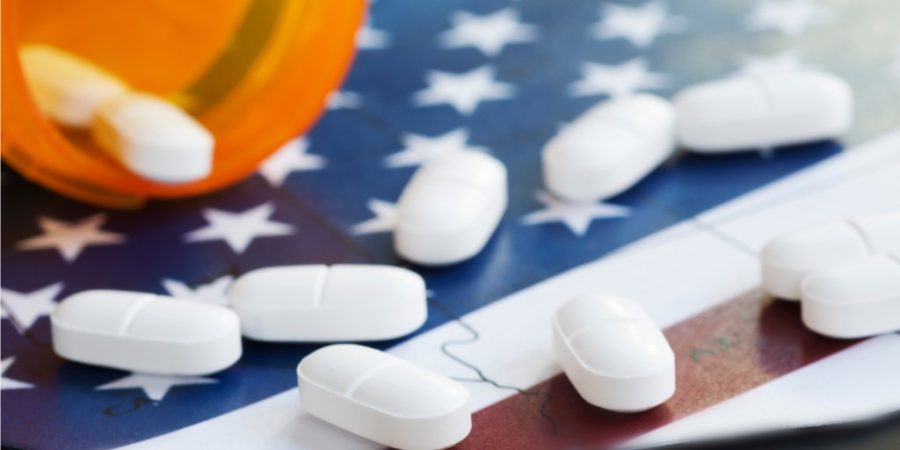 When veterans return home after deployment, they often bear physical and emotional scars from their time in the military. And to cope with the pain caused by such wounds, many veterans come to rely on prescription medications. In some cases, however, this can lead to an unhealthy dependence on drugs that spirals further into pain pill addiction.
Addiction to painkillers can wreak havoc on your physical and mental health. It can also place a great strain on your relationships with family members and other loved ones. As a veteran, you are at an even higher risk of developing an opioid addiction. Find out why and what you can do to start recovering from it.
Veterans and Pain Management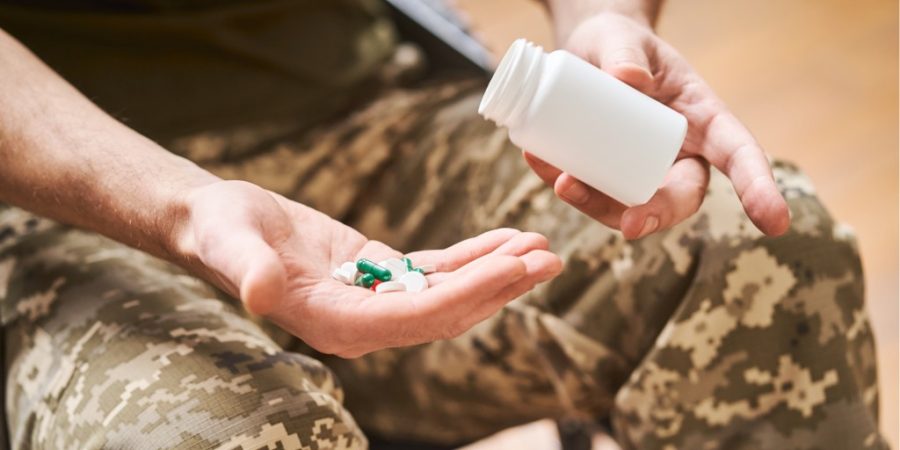 Veterans often experience a lot of pain, both physical and emotional. On average, more than one in 10 veterans will develop post-traumatic stress disorder (PTSD) following their experiences in the military. Of those, more than 20 percent will also have a co-occurring substance use disorder.
When combined with additional factors such as service-related injuries, combat exposure, and military sexual trauma (MST), it's understandable why so many veterans would need to look into pain management options – and why some may feel as though those options aren't enough. For those individuals, pain pill addiction may simply be a result of searching for a little more pain relief.
According to the National Institute on Drug Abuse, as many as one in four people with prescriptions for opioid medications misuse them. Abusing opioids or other pain relief medications can become increasingly problematic as one's tolerance grows, or if their doctor stops writing their prescriptions.
If access to prescription drugs suddenly becomes lost or restricted, some individuals may consider using another substance as a replacement, including heroin. The National Institute on Drug Abuse estimates that four to six percent of patients who misuse their prescribed opioid medications eventually move to using heroin instead.
The Dangers of Opioid Abuse
You may be asking yourself why doctors still prescribe opioid medications if so many people end up misusing them. As time goes on, fewer do, with more and more states tightening the limitations on opioid prescriptions. But the fact remains that opioids are among the most effective drugs for treating pain. As common as chronic pain is among veterans, that leaves them particularly vulnerable to becoming addicted opioids.
Furthermore, changes made to the way opioids are prescribed now does not change that so many people have already fallen victim to them. The Substance Abuse and Mental Health Services Administration reported that over 10 million people abused opioid prescriptions in 2018. Of those, approximately one in five had an opioid use disorder.
Severe Opioid Withdrawal Symptoms
One of the reasons opioid abuse is particularly prevalent is because of how dangerous its withdrawal symptoms are. The U.S. Food and Drug Administration released a report about the threat of sudden onset symptoms due to their severity. Patients who abruptly stopped taking their prescription medications experienced a wide range of serious effects such as "uncontrolled pain, psychological distress, and suicide."
Even those who stopped taking opioids gradually still experienced withdrawal symptoms. They were generally far more manageable, including symptoms like restlessness, sweating, and muscle aches, though they could also include anxiety, vomiting, and increased blood pressure.
The amount of discomfort associated with stopping an opioid prescription meant that many preferred to simply continue taking it. However, over long periods of time, this caused their bodies to develop a higher tolerance for the drug. In turn, they had to seek higher doses to achieve the same effect and stave off withdrawal symptoms.
It's a ruthless cycle that intensifies one's reliance on opioids and increases their risk of overdose. Over 75,000 people died from an opioid overdose in 2021. That translates to roughly one every seven minutes.
But it doesn't have to be that way. If you can identify you have a problem misusing prescription drugs, you can take action to get help for it.
Treatment for Pain Pill Addiction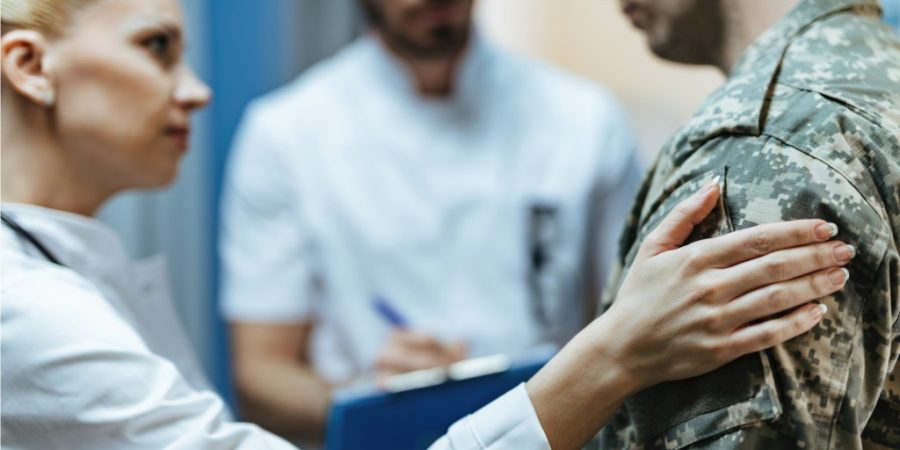 Finding a treatment option that suits your needs can be a challenge, especially as a veteran. At Heroes' Mile, though, our treatment plans are designed for veterans, by veterans.
Many of our staff members have been in your position in the past. Now they dedicate themselves to ensuring your specific post-service needs are always the top priority. If you're a veteran struggling with pain pill addiction, we will guide you through a series of steps designed with informed care.
Medical Drug Detox
When someone chronically misuses prescription opioids or other pain medications, their body can develop a physical dependence on the drug. To recover in these cases, the body must first relearn how to function without the medication. Heroes' Mile offers an individually-tailored drug detox program to promote a safe and effective completion of this process.
We know that no two people have identical experiences with pain pill addiction. You will be assessed and consulted by our trained team of addiction specialists and mental health experts who will help build a treatment plan just for you.
On average, veterans remain in our detox program for five to seven days. It takes time for your body to recover from physically depending on a drug, and as it exits your system, you will experience withdrawal symptoms.
In the first few hours, this involves mostly minor symptoms such as anxiety, muscle aches, and sweating. As your body goes longer without receiving the drug it expects, the withdrawal symptoms present more severely. They may include vomiting, diarrhea, and in some cases, seizures.
But there are ways to safely treat these issues. The physicians and nurses at Heroes' Mile will closely monitor your vitals and symptoms to ease your discomfort during this time and provide you with a safe, controlled detox experience. Not only can this keep you safe and comfortable, but it will greatly reduce your risk of relapse.
Residential Rehabilitation
After completing their drug detox, veterans at Heroes' Mile typically shift into our residential rehabilitation program. An inpatient recovery option offers a safe, calm environment in which veterans can focus on learning important coping skills and healthy behaviors.
Our evidence-based treatment plans give veterans access to the tools they need to overcome pain pill addiction. You may partake in treatments such as group therapy, cognitive behavioral therapy, 12-step programming, and eye movement desensitization and reprocessing (EMDR) therapy.
The wide variety of therapy options available at Heroes' Mile will help you retake control of your life and develop vital life skills. These include open communication, emotion regulation, goal setting, and self autonomy. We want to supply you with a renewed sense of control over your life and decisions, because for many, drug addiction can take that feeling away. With our extensive, specialized treatment plans, however, you will regain power over your own life.
During your stay, you can also expect to receive 24/7 care from our outstanding team of counselors and physicians. You never need to battle pain pill addiction alone when you have the Heroes' Mile staff in your corner. We will check in with you regularly about your progress and goals going forward, as well as help you move toward making them a reality.
Intensive Outpatient Programming
Treatment for pain pill addiction doesn't end the moment you exit residential rehab. We will remain by your side and aid your transition back to everyday life through our intensive outpatient program. This phase of treatment helps you rebuild your personal life by reconnecting with family members and friends, reentering the workforce, and adjusting back to the ebbs and flows of day-to-day life.
As an off-site patient, you can expect to visit the Heroes' Mile facility for one to two hours per day. Your time on-site will be spent continuing to receive therapeutic support, but there will also be a shift to devote more time and energy to aftercare planning. After building healthy coping skills throughout your residential experience, our outpatient program provides the launching platform you need to begin applying those skills to real, everyday life.
At this point in your recovery, you may also shift your focus to relapse prevention planning. Relapse is a daunting possibility that hangs over the heads of recovering patients, but we will keep you informed about the signs of relapse, as well as what you can do to avoid it.
However, should relapse become a step in your journey, remember that it will only be just that: a single step. You can take another step afterward and leave it behind, and we at Heroes' Mile will continue to serve you the entire way.
Veterans Helping Veterans with Drug Addiction
As a veteran, you deserve dedicated and effective treatment catered to your specific post-service needs. Heroes' Mile offers an unmatched level of specialized care developed with you and no one else in mind. Our veteran exclusivity guarantees that the peers around you can relate to your military experiences in a way civilians never could.
To further embody the idea of finding recovery through common ground, Heroes' Mile is primarily staffed by fellow veterans, too. The doctors and counselors you speak with will know your struggles and understand even the most unique challenges you face as a veteran. Together, you can design and implement a personalized, long-term plan to help you overcome pain pill addiction and develop healthier pain management skills.
If you're ready to take the first step toward recovery, reach out to our admissions team at 888-512-9802 or fill out our confidential contact form online to learn more about the drug addiction treatment options at Heroes' Mile.
The post How to Overcome Pain Pill Addiction as a Veteran appeared first on Heroes' Mile Veterans Recovery Center.
Source
Original Author: Heroes' Mile