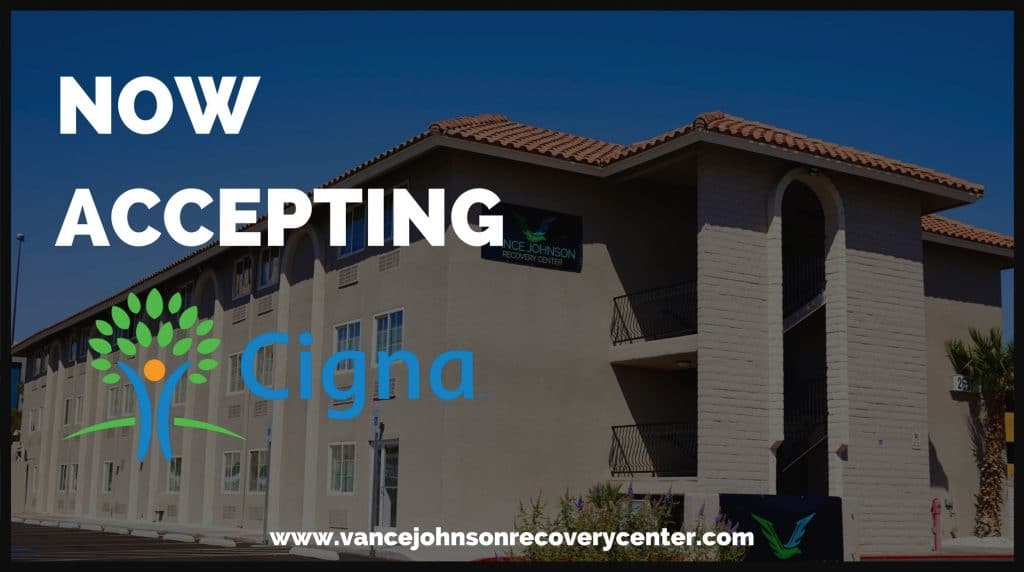 LAS VEGAS, NEVADA – December 2, 2020
The Vance Johnson Recovery Center, a state-licensed, Joint Commission-accredited addiction treatment center based in Las Vegas, Nevada, is delighted to announce that it is now in-network with Cigna.
Dan Mager, the administrator at the Vance Johnson Recovery Center, said, "We are thrilled to now accept Cigna health insurance. Accepting more insurance providers, like Cigna, is a big step for our center to help those struggling with addiction receive the treatment they need to better their lives. Clients who carry Cigna health insurance can now access our trauma-informed, state-of-the-art inpatient and residential programs."
The intensive inpatient program was uniquely designed for individuals who live with both substance abuse and behavioral health issues. To that end, the interdisciplinary staff works closely with clients to end the vicious cycle of substance abuse and co-occurring mental health challenges. At this level of care, treatment modalities include intensive individual, group, and family counseling along with a variety of other evidence-based treatment approaches.
Alternatively, the residential rehabilitation program was crafted for people who have experienced drastic adverse effects from long-term substance abuse. These trauma-informed treatments focus on relapse prevention strategies, effective coping skills, and guidance for regaining control of daily life.
The Vance Johnson Recovery Center's goal is to offer comprehensive care that is affordable and accessible to anyone willing to begin a recovery-based lifestyle. If you or someone you know is struggling with addiction, please call 866-400-9705 for more information.
About the Vance Johnson Recovery Center
The Vance Johnson Recovery Center is a 44-bed, state-of-the-art addiction treatment facility in Las Vegas, Nevada, which delivers personalized care that is comprehensive, compassionate, and synchronized with patient goals. Treatment plans are customized to each patient's unique needs and priorities. The addiction treatment center offers holistic and evidence-based addiction treatments that address physical, emotional, and spiritual wellness. The multi-disciplinary team of medical and behavioral health professionals provide treatment designed to help people develop the awareness and skills required to achieve and sustain recovery.
The post Vance Johnson Recovery Center Is Now In-Network With Cigna appeared first on Vance Johnson Recovery Center.
Source
Original Author: Vance Johnson Recovery Center