Making the decision to seek substance abuse treatment is an important first step toward long-term recovery. But if you are considering drug and alcohol rehabilitation, you probably have a lot of questions about what your treatment plan will be.
Below, we explain everything that veterans need to know about drug and alcohol rehabilitation, including what your treatment options are, which treatment facilities are best for you, and how you can find help near you.
Veterans and Substance Abuse Treatment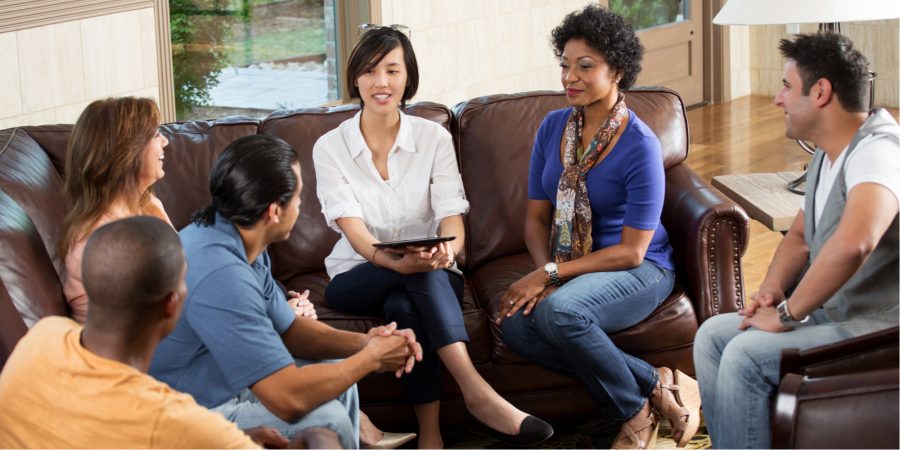 Before we can dive into all the different types of treatment for addiction, it's important to understand how substance use disorders can affect veterans. According to the National Institute on Drug Abuse, once service members leave active duty, they are more likely to use illicit drugs. This is true when it comes to veterans who struggle with alcohol abuse as well.
Drug or alcohol addiction in veterans is a serious problem for a number of reasons. Not only is it extremely challenging to return to civilian life after serving, but many veterans come home with mental health concerns as well. Conditions like depression, anxiety, and post-traumatic stress disorder are all common struggles for military personnel.
The Substance Abuse and Mental Health Services Administration (SAMHSA) shares that dozens of veterans commit suicide every day. Additionally, SAMHSA reports that veterans, compared to non-service members, are two times as likely to fatally overdose on opioids, which are often prescribed for service-related injuries before being misused.
Because veterans have such unique experiences through their service to the country, they need a specialized approach to mental health and addiction treatment. As you are looking into your own treatment options, be sure to find treatment centers that are veteran-friendly so that you can get the best out of your recovery process.
Drug and Alcohol Rehabilitation Options
There are several different treatment options for veterans who need to face their addiction and mental health challenges head on. The one that will be most beneficial to your needs depends on the type of addiction you have, if you are diagnosed with any mental health conditions, and your long-term recovery goals. Here's what you need to know about the types of treatment that you can expect at veteran-focused treatment centers.
1. Drug or Alcohol Detox
First and foremost, your recovery experience will most likely start with a drug or alcohol detox program. The detoxification process essentially is a period of time in which you adjust to sobriety. However, this is not as simple as it sounds. When your body is dependent on drugs and/or alcohol, it will react once that substance is taken away. Withdrawal symptoms for both alcohol and drug addiction include:
Body aches
Nausea and vomiting
Sleeplessness
Hallucinations
Sweating and shaking
Seizures
Heart failure
As you can see, the health consequences of detoxing without the proper medical intervention can be extremely dangerous and even deadly. On top of that, the intensity of detox can have a negative impact on your mental health. This is why it is so important to find a treatment facility that will walk you through detox safely and with mental health support. Then, once you make it through detox, you will be able to focus on the emotional aspect of recovery.
2. Inpatient Rehab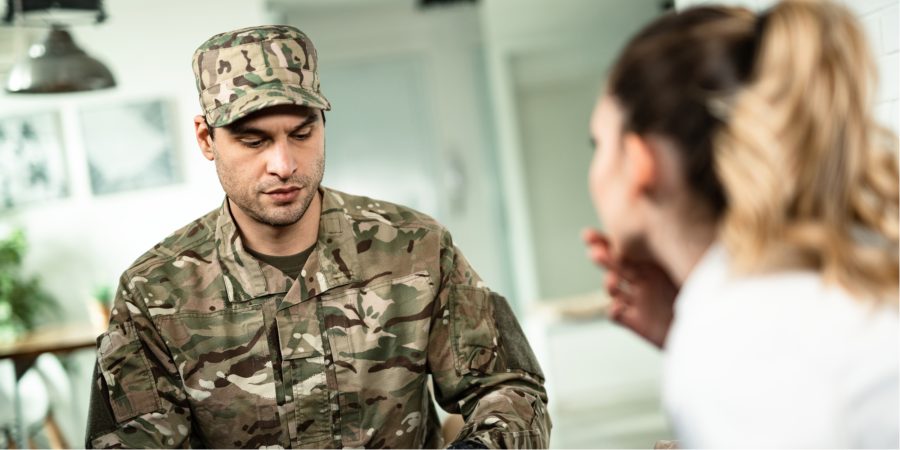 One of the most beneficial approaches to treatment is inpatient rehab. Also known as residential treatment, inpatient rehab allows veterans to stay in a safe environment as they recover from addiction and any mental health struggles. With inpatient treatment, the stressors and temptations of the outside world feel much less intense.
During your time in residential treatment, you will have the opportunity to experience different therapies and skill-building resources, including:
A 12-step program
Individualized therapy
Art therapy
Nutritional education
Job preparedness training
Inpatient treatment is best for veterans who are looking to gather the tools they need to maintain long-term sobriety and emotional wellness. Many patients in residential rehab also benefit from mental health treatment for commonly seen mental illnesses in veterans, like PTSD. Ultimately, the goal in residential rehab is for veterans to leave feeling healthier, happier, and more confident in their abilities to rejoin society.
3. Partial Hospitalization Program
Some veterans are not able to stay in a residential rehab program, even though they need the resources that inpatient treatment offers. In these situations, a partial hospitalization program (PHP) can be extremely beneficial. A PHP allows veterans to spend up to five hours a day with access to one-on-one counseling sessions, group therapy, and family therapy.
Support groups and family therapy are both especially useful for veterans in a PHP program. After treatment during the day, patients are able to go home to focus on whatever outside responsibilities they might have. This sometimes can bring the risk of temptation when you leave the facility for the day. Having friends and family to support you is essential to staying on the path toward recovery.
Partial hospitalization is most beneficial for veterans who are unable to make the time commitment to attend an inpatient rehab program but still need the structure and support of professional addiction and mental health help. Why not carry on in your daily duties while finding health and happiness?
4. Intensive Outpatient Rehab
Similar to a PHP program, outpatient rehab allows veterans to receive treatment for just a couple hours a day. In an intensive outpatient rehab, you will not have access to all of the same treatment options as in a residential treatment program, which is why it is important to enroll in higher levels of care before starting outpatient treatment. This includes completing a 12-step program and having support groups in place to prevent relapse.
Before evaluating if an outpatient rehab program is right for you, ask yourself these questions:
Have I already detoxed from drugs or alcohol?
Do I have a safe, supportive environment to return to after treatment?
Can I stay in recovery without more intensive treatment?
If you answered "yes" to these questions, outpatient rehab might be the exact approach you need.
Your Treatment Plan at Heroes' Mile
Whether it's inpatient treatment, outpatient rehab, or something in between, you have endless resources at our treatment center. Heroes' Mile is a drug and alcohol rehabilitation center that is made by and for veterans. Here, we are prepared to give you the specialized, focused treatments you need to be successful in your recovery journey.
To learn more about your treatment options and the program that would be best for you, please give us a call at 888-838-6692 or complete our confidential contact form today.
The post Drug and Alcohol Rehabilitation for Veterans appeared first on Heroes' Mile Veterans Recovery Center.
Source
Original Author: Heroes' Mile