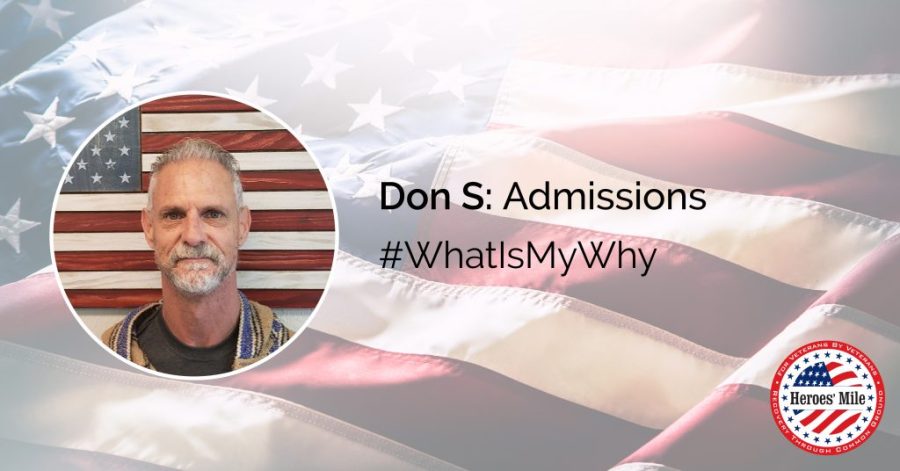 I direct admissions at Heroes' Mile Recovery Center in Deland, FL. My duties sound straightforward and simple. I find a way to get Military Veterans into our program. As I said, it sounds simple, but it is much more difficult than I ever imagined.
I served in a few different roles at this facility since being brought on board in June, 2019. I was asked to take over the Admissions Office in early November, 2019.
My favorite part of this position here at Heroes' Mile is actually easy to determine. There is but one criteria by which I and others judge how I perform my job; whether or not I can get Veterans into our program. That's a very objective measure of success or failure. I do whatever I can to help Veterans and this job is an additional way to assist them.
I have a close connection with both mental health and addiction recovery. As a former U.S. Marine and Service-Connected Disabled Veteran, I have fought, lost and won my own battles with Trauma, PTSD and Substance Abuse. My last loss occurred more than twelve years ago. Since that time, I have sought extensive training, education and certification to help myself and to be of assistance to others who struggle with similar difficulties.
I wouldn't assume responsibility for any success story beyond my own. I strive to help others obtain the peace and serenity I've found for myself, and I celebrate their successes, but maintaining my own achievements is my primary responsibility and my greatest success.
Beyond my personal connection to mental health and addiction, I view work in this field as an extension of the life of public service I began over thirty years ago. Military Service, Defense Contracting, Defense Civilian employment, and Federal Law Enforcement. I get a great deal of personal satisfaction from service to others, and hope I will continue to do so at Heroes' Mile.
We Can Help You
Heroes' Mile is a substance abuse, post-traumatic stress, and military sexual trauma program designed for military service veterans experiencing problems with addiction and other psychological challenges related to their military services. We are located in DeLand, FL, and are committed to serving those who served our country.
If you are a veteran or would like to refer a veteran to our program, please call an Admissions Specialist today at 386-319-1837.
We've got your six!
The post What Is My Why: Don S., Director of Admissions appeared first on Heroes' Mile Veterans Recovery Center.
Source
Original Author: Heroes' Mile